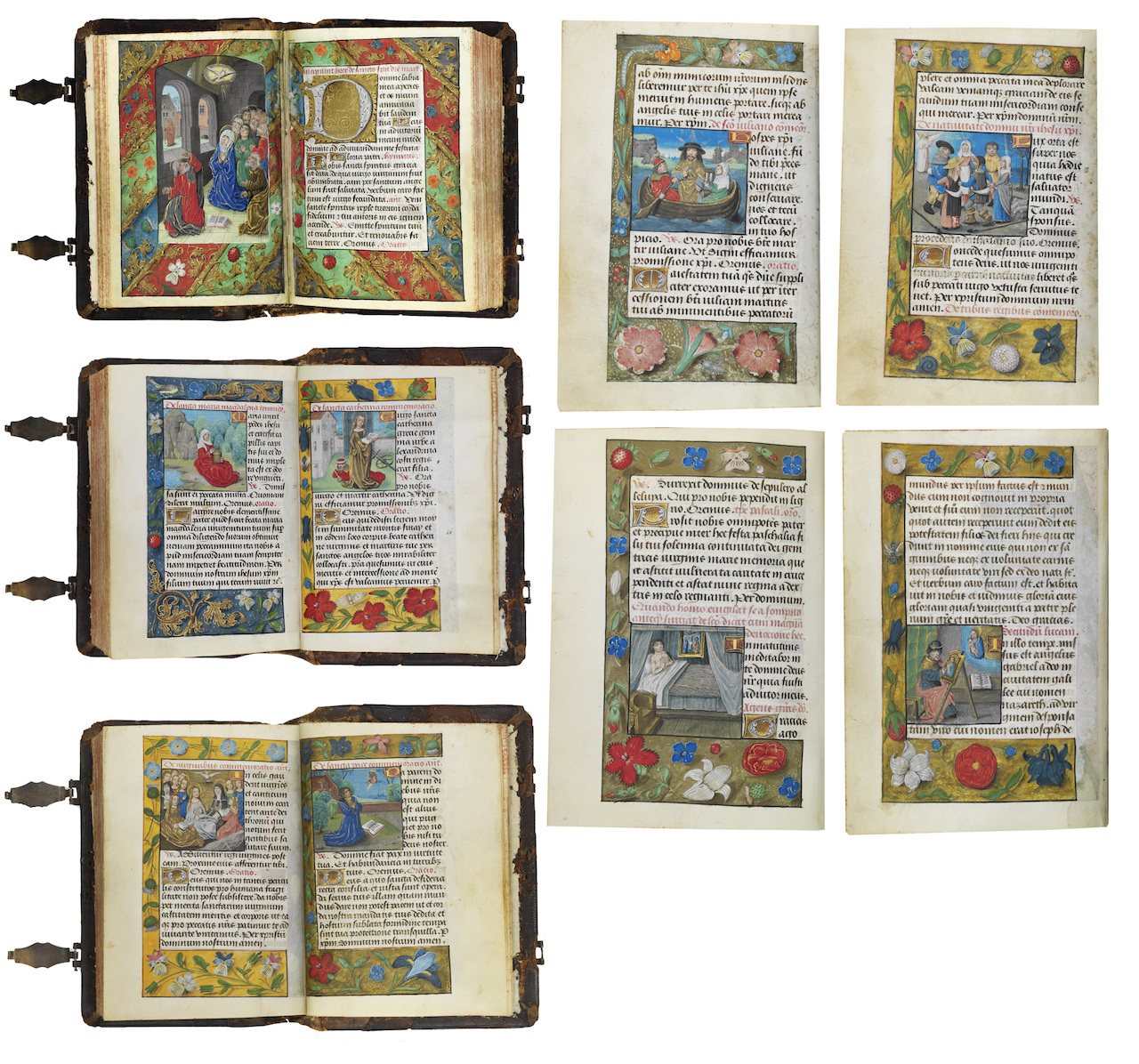 Londen, Christie's Catalogus 7 juli 2010 (Arcana Collection: Exceptional Illuminated Manuscripts, Part I), lot 40 Calderon getijdenboek
THE CALDERON HOURS, use of Rome, in Latin, ILLUMINATED MANUSCRIPT ON VELLUM
[southern Netherlands, c.1485]
miniatures by the Master of Edward IV
32 x 93mm. iv + 219 + ii leaves: 16, 25(of 6, lacking iii), 3-48, 59(of 8 + vi), 6-178, 186, 19-218, 226, 23-258, 267(uncertain, text apparently complete), 27-288, 294, 21 lines written in brown ink in a lettre bâtarde between two verticals and 22 horizontals ruled in red, justification: 84 x 58mm, rubrics in red, one- and two-line initials with violet foliate staves detailed in white on brown grounds stippled with liquid gold, line-endings of similar design, ten large initials with foliate staves in various colours on contrasting grounds patterned in liquid gold, some with infill motifs, accompanied by NINE FULL BORDERS AND ONE THREE-SIDED BORDER of acanthus and naturalistic flowers and fruits on divided grounds of colours or of light brown stippled with liquid gold, some enlivened with birds, insects or motifs related to the text, one-line initials with staves of liquid gold on red grounds within SEVENTY-ONE SMALL MINIATURES WITH SIMILAR BORDERS TO THREE SIDES, TWO FULL-PAGE ARCH-TOPPED MINIATURES WITH SIMILAR FULL BORDERS (lacking one leaf and possibly seven inserted singletons with miniatures, rubbing to some leaves, including border on f.12 and background of miniature on f.115v, some offsetting of liquid gold border motifs, offset partially coloured on f.186v). CONTEMPORARY BRUGES TANNED CALF OVER WOODEN BOARDS STAMPED IN BLIND with two panels of two central compartments with birds and deer surrounded by the inscription ora pro nobis sancta dei genetrix ut digni efficiamur promis/sione christi separated by fleur de lys and quatrefoils, two metal clasps (metal clasps and catches replaced, marks from single central clasp, rebacked, rubbed, corners of boards eroded). Black morocco solander box, title gilt.
PROVENANCE:
1. From its content, style and binding, the book was made in the Southern Netherlands. The miniatures are by the Master of Edward IV, who was active in Bruges from the later 1470s and then apparently moved away in the troubled 1480s, perhaps to Lille, where he attracted patrons from neighbouring Hainault. The presence of the Hainault saint Gislenus in red in the calendar (9 October) as well as of the more widely revered St Donatian, patron of Bruges (14 October), connects the manuscript to this period. The intended owner was probably Spanish: most unusually for a Flemish made book of hours, there is a commemoration and miniature for St Alfonso, bishop of Astorga in Leon, whose cult centred on Ribas de Sil in neighbouring Galicia. The binding suggests that the commission originated in Bruges, where the Spanish mercantile community had remained when most others had moved to Antwerp. It could have been for the personal use of an expatriate in the Netherlands or for export to Spain, where Netherlandish illuminated manuscripts were highly prized. Prayers are in the masculine, including the unusual sequence invoking protection against all sorts of dangers; the man shown at prayer in four miniatures, ff.111v, 121, 215 and 217, presumably represents the owner, who seems to have had a special regard for the mendicant Orders with a slight bias in favour of the Franciscans, since there are prayers and miniatures of Sts Francis, Anthony of Padua and Clare, who is also invoked in the litany, but Sts Dominic and Thomas Aquinas are not accompanied by St Scholastica.
2. The Spanish Franciscan Antonio de Cabanillas, who gave the book to his fellow Franciscan Antonio Calderón in 1672, as inscribed on the third leaf facing the calendar; at the top of f.i is Del uso de Fr. Ant. Calderon Religioso de N.P.S. Francisc., for 'his use' because as a Franciscan he could own no personal property; on the final end leaf he qualifies his name with religioso indigno. Fray Antonio Calderón was padre guardian of the convent of St Francis in Madrid in 1687, Visitor of the Franciscan Tertiaries in Madrid 1681-83, Visitor General of Castile in 1682 (M. D. Delgado Pavón, La venerable orden tercera de San Francisco en el Madrid del siglo XVII, PhD, Alcalá de Heneres, 2007, pp.132, 146, 302). The feast of the Franciscan Francis Xavier was added to the calendar (3 December) and blank leaves were used to add Franciscan Offices: for clothing a Tertiary, f.68, for professing a Tertiary ff.123-124 and the little Office of St Francis with hymn and prayer to the saint, ff.218-220. The illuminations of the original manuscript were clearly admired since it was further embellished with careful pen drawings: branches of flowers at the foot of the addition, f.68v, and of the original text, f.122v, and an altar bearing the arms of the Franciscan order impaling the five wounds of Christ, perhaps for the Madrid convent, f.124.
CONTENT:
Calendar, lacking September, ff.1-11; Salve sancta facies, f.12; Gospel Extracts ff.13-16: John f.13, Luke f.13v, Matthew f.14v, Mark f.15v; Athanasian Creed ff.16-18; Sunday Hours of the Trinity ff.18v-25v; Monday Hours and Mass of the Dead, ff.25v-32v; Tuesday Hours and Mass of the Holy Spirit, ff.34-40; Wednesday Hours and Mass of All Saints, ff.40v-47; Thursday Hours and Mass of the Sacrament, ff.47-53v; Friday Hours and Mass of the Cross, ff.54-60v; Saturday Hours and Mass of the Virgin, ff.60v-68; Office of the Virgin, use of Rome, ff.69-115: matins f.69, lauds f.79v, prime f.86v, terce f.89v, sext f.92v, none f.95, vespers f.97v, compline f.102, variants for different feasts f.105v; prayers when getting up, ff.111v-115; Obsecro te, ff.116-118; O intemerata, ff.118v-120; prayers to the Virgin and Christ, ff.120-122v; Penitential Psalms, ff.125-131; Litany, ff.131-135v; Office of the Dead, use of Rome, ff.136-161; Psalter of St Jerome ff.161-172; sequence of prayers associated with St Leo for divine protection ff.172-185v; the Seven Oes and prayer attributed to St Gregory ff.185v-190; prayer to Christ ff.190-191; Verses of St Bernard ff.191v-192; prayers for the major feasts of the Christian year ff.192v-194v; Suffrages to the Saints, named below in the description of small miniatures, ff.195-214v; prayers for peace, to say in bed and at mass, ff.215v-218v.
ILLUMINATION:
The rich cycle of illumination is by the Master of Edward IV and his workshop. Named from the magnificent volumes ordered by King Edward IV of England in the years around 1480, the Master specialised in secular texts (T. Kren and S. McKendrick, Illuminating the Renaissance, pp.295-305, 335-43). His distinctive figures and gift for narrative connect him with Loyset Liédet, who certainly moved from Bruges to Lille where he is recorded between 1483 and 1484. The Master could, therefore, be Loyset's brother, Huchon Liédet, member of the Bruges illuminators' confraternity from 1477 to 1484 (D. Vanwijnsberghe, 'Marketing Books for Burghers; Jean Markant's Activity in Tournai, Lille and Bruges', Flemish Manuscript Painting in Context, E. Morrison and T. Kren eds, 2006, pp.135-48.
The Calderón Hours are typical of the Master's later work, with the almost sculptural manipulation of paint to model emphatically three-dimensional forms. The vivid little scenes offer engaging insights into daily life: the owner praying in bed, f.111v, St Luke painting the Virgin, f.13v, dancing shepherds and shepherdesses, f.192v, and St Julian's ferry boat, f.205v. Even on this intimate scale, the Master tends to turn usually iconic images of the saints to narrative: Thomas tests Christ's wound, f.198, Stephen is being stoned, f.203, Nicholas raises the three boys, f.209.
The Calderón Hours is an appealing demonstration of how successfully the Master of Edward IV could turn his narrative talents to the illumination of a Book of Hours. The rich scatter borders, a hallmark of Netherlandish illumination, presumably appealed to the original Spanish owner as much as to Fr. Antonio Calderón, who carefully updated his treasured manuscript in the 17th century.
The subjects of the large miniatures are as follows:
f.33v Pentecost
f.115v The Lamentation
The subjects of the small miniatures are as follows:
f.13 St John on Patmos; f.13v St Luke painting the Virgin; f.14v St Matthew ; f.15v St Mark; f.16 St Athanasius; f.18v The Trinity; f.25v Burial in a churchyard; f.40v All Saints kneeling before God; f.47 A Monstrance held by two angels; f.60v The Virgin and Child; f.79v The Visitation; f.86v The Nativity; f.89v The Annunciation to the Shepherds; f.92v The Adoration of the Magi; f.95 The Presentation in the Temple; f.97v The Massacre of the Innocents; f.102 The Flight into Egypt; f.105v The Coronation of the Virgin; f.111v The owner praying in bed by a painting of the Crucifixion; f.118v The Virgin and St John; f.120 The Death of the Virgin; f.121 the owner kneeling before the Christ Child; f.172 St Leo; f.185v St Gregory praying before a crucifix; f.190 The Christ Child adored by angels; f.191v St Bernard with the devil on a leash; f.192v Annunciation to a ring of dancing shepherds and shepherdesses; f.193 The Meeting of the Magi; f.193v The Resurrection; f.194 The Ascension; f.194v The Assumption of the Virgin; f.195 St Michael vanquishing the devil; f.195v St John the Baptist; f.196 Sts Peter and Paul; f.196v St Andrew; f.197 St James the Great; f.197v St John the Evangelist; f.198 St Thomas testing the Wound of Christ; f.198v Sts Philip and James the Less; f.199 St Bartholomew; f.199v St Matthew; f.200 Sts Simon and Jude; f.200v St Matthias; f.201 St Luke with his portrait of the Virgin; f.201v St Barnabas; f.202 St Mark; f.202v All Saints; f.203 St Stephen being stoned; f.203v St Lawrence; f.204 St Sebastian; f.205 St Christopher with the Christ Child; f.205v St Julian and his wife ferry Christ disguised as a pilgrim over a river; f.206 Four of the Ten Thousand Martyrs; f.206v Several Martyrs; f.207 St Nicolas raising the Three Boys from the brine tub; f.207v St Anthony Abbot; f.208 St Alphonsus; f.208v St Benedict; f.209 The Stigmatisation of St Francis; f.209v St Anthony of Padua; f.210 St Dominic; f.210v St Thomas Aquinas; f.211 Several Confessors; f.211v The Magdalene; f.212 St Katherine; f.212v Barbara; f.213 St Lucy; f.213v St Clare; f.214 St Ursula; f.214v Several Virgins; f.215 The owner praying in a landscape; f.217 The owner praying before an altar.
BIBLIOGRAPHY FOR THIS MANUSCRIPT::
B. Brinkmannn, Die flämische Buchmalerei am Ende des Burgunderreichs, 1997, p.397