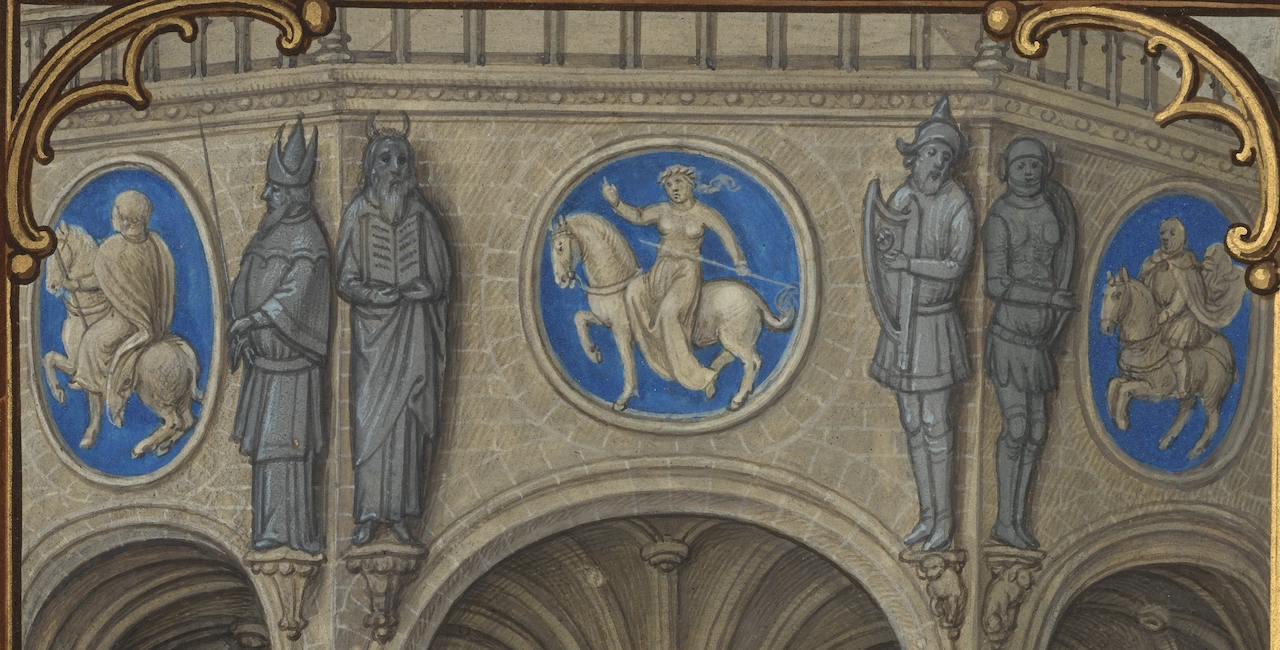 Literatuur "G"
Direct link to:

Gil 1998. Marc Gil, "Un livre d'heures inédit de l'atelier de Simon Marmion à Valenciennes", in: Revue de l'Art, Centre National de la Recherche Scientifique, 1998, 121 (1), pp. 43 – 48

Gras 2016 Samuel Gras. La vallée de la Loire à l'époque de Jean Fouquet : la carrière de trois enlumineurs actifs entre 1460 et 1480. Art et histoire de l'art. Université Charles de Gaulle – Lille III, 2016)
Gaborit-Chopin 1968
D. Gaborit-Chopin, "Les dessins d'Ademar Chabannes", in: Bulletin Archeologique du Comite des Travaux Historiques et Scientifiques, n.s. 3, annee 1867, Parijs, 1968, p. 163-225 (*)
Gaborit-Chopin 1969
D. Gaborit-Chopin, La decoration des manuscrits a Saint Martial de Limoges et en Limousin du IXe au XIIe siècle, Parijs & Geneva 1969
Gabriel 1979
A.L. Gabriel, "A Statute Book of the Order of St. Michael in the Pierpont Morgan Library, New York City", in: Miscellanea codicologia F. Masai dicata, Gent, 1979, p. 481-489 (*)
Gaehde 1966
J.E. Gaehde, "The Bible of San Paolo fuori le mura in Rome: its date and its relation to Charles the Bald", in: Gesta V (1966) (*)
Gaehde 1975
J.E. Gaehde, "The pictorial sources of the illustrations to the Books of Kings, Proverbs, Judith and Maccabees in the Carolingian Bible of San Paolo fuori le mura in Rome", in: Frühmittelalterliche Studiën IX (1975) (*)
Gaehde 1985
J.E. Gaehde, "The draughtsmen of the Utrecht Psalter", in: Studien zur mittelalterlichen Kunst, 800-1250. Festschrift für Florentine Mütherich zum 70. Geburtstag, München, 1985, p. 49-52
Gagnebin 1976
Bernard Gagnebin, Le Missel de Bonivard, prieur de Saint-Victor de Genève, chef d'œuvre méconnu de Janin Luysel, peintre des vitraux de la cathédrale Saint Pierre, Genève, 1976 (*)
Gaillard 1923
Emile Gaillard, Un peintre siennois au Xve siècle : Sano di Pietro, Chambéry, 1923 (*)
Gameson 1994
Richard Gameson, The Early Medieval Bible: its Production, Decoration and Use, Cambridge, 1994 (*)
Gameson 1999
Richard Gameson, The Manuscripts of Early Norman England (c. 1066-1130), Oxford, 1999 (*)
Gameson 2001
Richard Gameson, "Hugo Victor, enlumineur normand", in: Cahiers de Civilisation Médiévale (2001), p. 121-138
Gameson 2008
Richard Gameson, The Earliest Books of Canterbury Cathedral: Manuscripts and Fragments to c. 1200(London: Bibliographical Society, 2008) (*)
Ganz 1960
Paul Leonhard Ganz, Die Miniaturen der Basler Universitätsmatrikel, Benno Schwabe & Co Verlag, Basel/Stuttgart, 1960
Garborini 1978
N. Garborini, der Miniator Sawalo und seine Stellung innerhalb der Buchmalerei des Klosters Saint-Amand, Keulen, 1978 (*)
Gardet 1959
Clément Gardet, Le Livre d'Heures de Louis de Savoie, Annecy, 1959 (*)
Gardet 1965
Clément Gardet, De la peinture du Moyen Age en Savoie du XIe au XVe siècle, Annecy, 1965 (*)
Gardet 1969
Clément Gardet, L'Apocalypse figurée des ducs de Savoie, Annecy, 1969 (*)
Gardet 1981
Clément Gardet, Un Livre d'heures du comte de Piémont, futur duc Amédée IX de Savoie, Annecy, 1981 (*)
Gardet 1985
Clément Gardet, Les Heures de Aimée de Saluces, vicomtesse de Polignac & de Catherine d'Urfé. Aspects internationaux & évolution dans la peinture des Etats de Savoie au XVe siècle, Annecy, 1985 (*)
Garzelli 1977
A. Garzelli, La Bibbia di Federico da Montefeltro, Rome, 1977 (*)
Garzelli 1980
A. Garzelli, "Arte del Libro d'ore e committenza medicea (1485-1536)", in: Atti del I Congresso Nazionale di storia dell'arte (Roma 1978), Rome, 1980, p. 475-490 (*)
Garzelli 1985
A. Garzelli, "Miniatura fiorentina del rinascimento 1440-1525 : un primo censimento", in: La miniatura italiana tra gotico e rinascimento : Atti del II Congresso di storia della miniatura italiana, Cortona, 1982, uitgegeven door E. Sesti, Florence, 1985, II, p. 465-472 (*)
Garzelli & De la Mare 1985
A. Garzelli & De la Mare, Miniatura fiorentina del Rinascimento: un primo censimento, 1440-1525, 2 vols., Florence, 1985 (*)
Gaspar 1925
Camille Gaspar, Le Pontifical de l'Eglise de Sens, Brussel-Leiden, 1925 (*)
Gaspar 1932
Camille Gaspar, The Breviary of the Mayer van den Bergh Museum at Antwerp, Brussel, 1932
Gaspar & Lyna 1937 (1984)
Camille Gaspar et Frédéric Lyna, Les principaux manuscrits a peintures de la bibliothèque royale de Belgique, Tome I, publicatie uit 1937 door de Société francaise de reproductions de manuscrits a peintures, Parijs, heruitgegeven in 1984 door de Bibliothèque Royale Albert 1e
Gaspar & Lyna 1945 (1987)
Camille Gaspar et Frédéric Lyna, Les principaux manuscrits a peintures de la bibliothèque royale de Belgique, Tome II, publicatie uit 1945 door de Société francaise de reproductions de manuscrits a peintures, Parijs, heruitgegeven in 1987 door de Bibliothèque Royale Albert 1e
Gaspar & Lyna 1989
Camille Gaspar et Frédéric Lyna, Les principaux manuscrits a peintures de la bibliothèque royale de Belgique, Tome III, Bibliothèque Royale Albert 1e
Gatti Perer 1989
M.L. Gatti Perer, Codici e incunaboli miniati della Biblioteca Civica di Bergamo, Credito Bergamasco, Bergamo, 1989
Gebhardt 1883
O. von Gebhardt, The Miniatures of the Ashburnham Pentateuch, London, 1883 (*)
Geddes 2005
Jane Geddes, der Albani-Psalter, 2005 (*)
Geisberg 1930/32
Max Geisberg (uitgever), Die deutsche Buchillustration in der erste Hälfte des XVI. Jahrhunderts, München, 1930-1932 (herdruk: Doornspijk 1987 (*)
Genève 1976
tentoonstellingscatalogus
L'Enluminure de Charlemagne a François Ier, Geneva, Musée Rath, 1976
Gent 2020
tentoonstellingscatalogus
Van Eyck. Een optische revolutie.
Georgi 2009
Katharina Georgi, "Zwischen Imitation und Invention. Ein frühes Stundenbuch des Jean Bourdichon in Frankfurt", in: Städeljahrbuch, N.F. (nouvelle série) 20, 2009, p. 105-130 (*)
Gernsheim 1934
W. Gernsheim, Die Buchmalerei der Reichenau, diss., München, 1934 (*)
Gerstinger 1931
H. Gersinger, Die Wiener Genesis, Wenen, 1931 (*)
Gesamtkatalog der Wiegendrucke I (1925)
Gesamtkatalog der Wiegendrucke I, Hiersemann, Leipzig, 1925 (*)
Gesamtkatalog der Wiegendrucke II (1926)
Gesamtkatalog der Wiegendrucke II, Hiersemann, Leipzig, 1926 (*)
Gesamtkatalog der Wiegendrucke III (1928)
Gesamtkatalog der Wiegendrucke III, 1928 (*)
Gesamtkatalog der Wiegendrucke IV (1930)
Gesamtkatalog der Wiegendrucke IV, 1930 (*)
Gesamtkatalog der Wiegendrucke V (1932)
Gesamtkatalog der Wiegendrucke V, 1932 (*)
Gesamtkatalog der Wiegendrucke VI (1934)
Gesamtkatalog der Wiegendrucke VI, 1934 (*)
Gesamtkatalog der Wiegendrucke VII (1935)
Gesamtkatalog der Wiegendrucke VII, 1935 (*)
Gesamtkatalog der Wiegendrucke VIII (1978)
Gesamtkatalog der Wiegendrucke VIII, 1978 (*)
Gibson 1993
Margaret T. Gibson, The Bible in the Latin West, The Medieval Book, I, Notre Dame, University Press, 1993 (*)
Gibson, Heslop & Pfaff 1992
M. Gibson, T.A. Heslop & R.W. Pfaff, The Eadwine Psalter. Text, image and monastic culture in twelfth-century Canterbury (Modern Humanities Research Association 14), Londen, 1992 (*)
Gil 1993
Marc Gil, 'Manuscrits enluminés et mécénat aristocratique dans le nord de la France au xve siècle: La librarie de Jean V de Créquy (vers 1395-1474)' (unpublished Diplôme d'Etudes Approfondies thesis, Paris, Sorbonne, 1993 (*)
Gil 1998
Marc Gil, "Un livre d'heures inédit de l'atelier de Simon Marmion à Valenciennes", in: Revue de l'Art, Centre National de la Recherche Scientifique, 1998, 121 (1), pp. 43 – 48.
Gil 1999
Marc Gil, De Maitre du Mansel au Maitre de Rambures. Le milieu des peintres et des enlumineurs de Picardie, ca 1440-1480, these de doctorat, Paris, universite de la Sorbonne – 4 vols., 1999 (*)
Gil 2011
Marc Gil, « Couleur et grisaille dans l'œuvre du Maître de Rambures (Amiens, v. 1454-1490) : l'exemple des "Faits des Romains" du Musée Condé de Chantilly (ms. 770) et de la Bibliothèque municipale de Lille (ms. 823) », in Marion Boudon-Machuel, Maurice Brock & Pascale Charron, (dir.) Aux limites de la couleur : monochromie et polychromie dans les arts, 1300-1650, Turnhout, Brepols, 2011, p. 141-156
Gil 2013
Marc Gil, « Picardie-Hainaut: Quelques remarques sur les livres d'heures produits par le Maître de Rambures et Simon Marmion », Sandra Hindman & James H. Marrow (dir.), Books of Hours Reconsidered, London-Turnhout, 2013, p. 265-277
Gil 2013 (2)
Marc Gil, "Jean Pucelle and the Parisian Seal-Engravers and Goldsmiths", in: Kyunghee Pyun & Anna D. Russakoff, Jean Pucelle: Innovation and Collaboration in Manuscript Painting, Harvey Miller Publishers, Turnhout, 2013, p. 27-52
Gilbert 1984
Creighton Gilbert in: Propyläen Kunstgeschichte 7, p, 239, nr. 147, Propyläen Verlag, Berlijn 1984 (*)
Gillespie 2002
Vincent Gillespie, Syon Abbey with the libraries of the Carthusians, Corpus of British Medieval Library Catalogues, 9, London: British Library, 2002 (*)
Gilson 1925
J.P. Gilson, Description of the Saxon manuscript of the four Gospels in the library of York Minster, York, 1925 (*)
Girault 2013
P.G. Girault. "Louis XII et Anne de Bretagne en prière devant la Couronne d'épines", in: Trésors enluminés des Musées de France. Pays de la Loire et Centre, 2013, nr. 9, p. 100-103
Girault 2014
LE RÉCIT DES FUNÉRAILLES D'ANNE DE BRETAGNE ENLUMINÉ PAR JEAN PICHORE, in: ART DE L'ENLUMINURE N° 48 – mars/avril/mai 2014
Girlanda 2001
Il Vangelo d'oro. La vita di Gesu. Con le miniature dela Historia del nuovo testamento miniata da Chistoforo De Poredis nel 1476, Edizioni San Paolo, Milaan, 2001, met een kritische notitie van de hand van Gabriele Mandel omtrent de miniaturen
Glassner 2000
Ch. Glassner, Inventar der Handschriften des Benediktinerstiftes Melk 1: Von den Anfägen bis ca. 1400, Wenen, 2000 (*)
Glauche 2011
Günther Glauche, Katalog der lateinischen Handschriften der Bayerischen Staatsbibliothek München.
Die Pergamenthandschriften aus dem Domkapitel Freising. Band 2: Clm 6317-6437. (Catalogus codicum manu scriptorum Bibliothecae Monacensis: Tomus III, Series Nova Pars 2,2). Wiesbaden, Harrassowitz, 2011 (*)
Gneuss 2001
H. Gneuss, Handlist of Anglo-Saxon Manuscripts: A List of Manuscripts and Manuscript Fragments Written or Owned in England up to 1100, Tempe, AZ, 2001 (*)
Gnoli 1923
Umberto Gnoli, Pittori e miniatori nell' Umbria, Spoleto, 1923 (*)
Gnoni 1986
Cristina Gnoni Mavarelli (ed.), I libri d'ore della Biblioteca Riccardiana. Vol. I: I libri d'Ore francesi e fiamminghi, Roma 1986 (*)
Goehring 2002
Margaret L. Goehring, "Artist or Style? A Consideration of the Master of the 'Older' Prayer Book of Maximilian I," in Manuscript Studies in the Low Countries: Proceedings of the "Groninger Codicologendagen" in Friesland, 2002, ed. Anne Margreet W. As-Vijvers, Jos M. M. Hermans, and Gerda C. Huisman, vol. 3 of Boekhistorische Reeks (Groningen: Egbert Forsten and Leeuwarden: Fryske Akademy, 2008)
Goldschmidt 1892
A. Goldschmidt, Der Utrecht-Psalter, in: Repertorium für Kunstwissenschaft 15 (1892), p. 156-169 (*)
Goldschmidt 1895
A. Goldschmidt, Der Albani-psalter in Hildesheim und seine Beziehung zur symbolischen Kirchen-skulptur des XII. Jahrhunderts, Berlijn, 1895 (*)
Goldschmidt 1928
A. Goldschmidt, Die deutsche Buchmalerei, 2 banden, Leipzig, 1928 (*)
Gombrich 1955
E.H. Gombrich, "Apollonio di Giovanni", in: Journal of the Warburg and Courtauld Institutes XVIII (1955), p. 16-34 (*)
Gorissen 1954
F. Gorissen, "Jan Maelwael und die Brüder Limburg: eine Nimweger Künstlerfamilie um die Wende des 14. Jahrhunderts", in: Bijdragen en Mededelingen van de Vereniging Gelre 54 (1954), p. 153-221 (*)
Gorissen 1957
F. Gorissen, "Jan Maelwael, die Brüder Limburg und der Herold Gelre; Nachträge und Berichtigungen", in: Bijdragen en Mededelingen van de Vereniging Gelre 56 (1957), p. 166-179 (*)
Gorissen 1973
F. Gorissen, Das Stundenbuch der Katharina von Kleve. Analyse und Kommentar. Berlin, 1973 (*)
Gosebruch 1983
Martin Gosebruch, Labor est Hermanni. Zum Evangeliar Heinrichs des Löwe, in: Abhandlungen der Braun-schweigischen Wissenschaft-lichen Gesellschaft 35 (1983, p. 135-161) (*)
Gosmann, Kleine, Ueberholz 2010
Michael Gosmann, Peter Michael Kleine, Kathrin Ueberholz: Der Gero-Codex kehrt zurück. Das gemalte Buch von Wedinghausen. Dokumentationsband über die Ausstellung des Gero-Codex im Kloster Wedinghausen vom 24. Oktober 2009 bis 17. Januar 2010. Stadtarchiv, Arnsberg 2010 (*)
Gouda 1986
tentoonstellingscatalogus
Leven en werk van Christoffel Pierson (1631-1714), "Den kloeken rijmer en konstrijken schilder", Stedelijk Museum Schiedam/Het Catharina Gasthuis Gouda. Schiedam 1986 (*)
Graeven 1898
H. Graeven, "Die Vorlage des Utrecht-psalters", in: Repertorium für Kunstwissenschaft XXI (1898), p. 28-35 (*)
Gras 2014
Samuel Gras, "Un livre d'heures à l'usage de Rome conservé à la Bibliothèque nationale d'Espagne", in: Art de l'enluminure, nr. 50, sept.-nov. 2014
Gras 2015
Samuel Gras, "The Master of Jeanne de France: a bridge between Jean Fouquet and the Jouvenel Group", in: Re-Inventing Traditions, On the Transmission of Artistic Patterns in Late Medieval Manuscript Illumination, eds. Joris Corin Heyder Christine Seidel, p. 145-170
Gras 2016 (1)
Samuel Gras, "La vallée de la Loire à l'époque de Jean Fouquet : la carrière de trois enlumineurs actifs entre 1460 et 1480", in: Art et histoire de l'art. Université Charles de Gaulle – Lille III, 2016
Gras 2016 (2)
Samuel Gras, "Les manuscrits enluminés pour Jeanne de France, duchesse de Bourbon", in: Les Femmes, la culture et les arts en Europe entre Moyen Âge et Renaissance Women, Art and Culture in Medieval and Early Renaissance Europe, Sous la direction de Cynthia J. Brown & Anne-Marie Legaré, BREPOLS PUBLISHERS n.v., TURNHOUT, p. 55-72
Grebe 2005
Anja Grebe, "Transgressing the borders: The fortunes of Flemish book illumination in Southern Germany after 1500", in: Manuscripts in transition. Recycling manuscripts, texts and images. Proceedings of the International Congress held in Brussels (5-9 November 2002), uitgegeven door Jan van der Stock. Uitgeverij Peeters, Parijs-Leuven-Dudley, Ma, 2005. Corpus of illuminated manuscripts: 15 / Low Countries series: 10, p. 431-440)
Grebe 2007
Anja Grebe, Goldenes Mittelalter. Geschichte der Buchmalerei, Jan Thorbecke Verlag, Berlijn, 2007
Grimme 1980
Ernst Günther Grimme, Die Geschichte der abendländischen Buch-malerei, Keulen, 1980 (*)
Grimme 1986
Ernst Günther Grimme, Das Evangeliar Kaiser Ottos III. Im Domschatz zu Aachen, Freiburg, 1986
Grosshans 1992
Rainald Grosshans, "Simon Marmion and the Saint-Bertin Altarpiece: notes on the genesis of the painting", in: Kren 1992, p. 233-242
Gualdi 1958
Fausta Gualdi, "I corali di Montemorcino", in: Rivista d'arte 33 (1958), p. 3-26 (*)
Gualdi Sabatini 1985
F. Gualdi Sabatini, « Il Messale Pontificis in Nativitate Domini, Borg. Lat. 425 della Biblioteca Vaticana », in: La miniatura tra gotico e rinascimento: Atti del II congresso di storia della miniatura italiana, Cortona, 1982, uitgever E. Sestri, Florence, 1985 (*)
Guest 1995
Gerald B. Guest, "a Discourse on the poor: The Hours of Jean d'Evreux", in: Viator: Medieval and Renaissance Studies 26 (1995), p. 153-180 (*)
Guiffrey 1894-1896
Jules Guiffrey, Inventaires de Jean duc de Berry (1401-1416), 2 delen, Parijs, 1894-1896 (*)
Gumbert 1974
J. P. Gumbert, Die Utrechter Kartäuser und ihre Bücher im frühen fünfzehnten Jahr-hundert, Leiden, 1974 (*)
Gumbert 1988
J. P. Gumbert, Manuscrits datés conservés dans les Pays-Bas.
Catalogue paléographique des manuscrits en écriture latine portant des indications de date. T.2. Les manuscrits d'origine néerlandaise (XIVe-XVIe siècles) et supplément au tome premier [CMD-NL 2]. Leiden etc. 1988 (*)
Gummlich-Wagner 2005
Johanna Chr. Gummlich-Wagner, "Zur gotischen Buchmalerei in Köln vor Johannes von Valkenburg", in: Manuscripts in transition. Recycling manuscripts, texts and images. Proceedings of the International Congress held in Brussels (5-9 November 2002), uitgegeven door Jan van der Stock. Uitgeverij Peeters, Parijs-Leuven-Dudley, Ma, 2005. Corpus of illuminated manuscripts: 15 / Low Countries series: 10), p. 127-138
Günther 1993
Jörn-Uwe Günther, Die illustrierten mittelhoch-deutschen Weltchronik-Handschriften in Versen, München, 1993 (*)
Günzel 1993
Beate Günzel, Aelfwine's Prayerbook B.L. Cotton Titus D.xxvi + xxvii, 1993 (*)